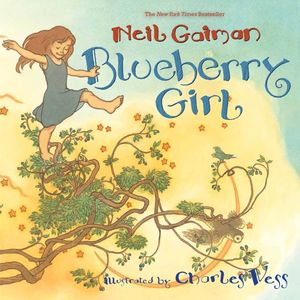 Blueberry Girl
Description
From New York Times bestselling and Newbery Medal-winning author Neil Gaiman comes an affirming poem for unconventional, powerful, growing daughters at any age.
A much-loved baby grows into a young woman: brave, adventurous, and lucky. Exploring, traveling, bathed in sunshine, surrounded by the wonders of the world. What every new parent or parent-to-be dreams of for her child, what every girl dreams of for herself.
Neil Gaiman and beloved illustrator Charles Vess turn a wish for a new daughter into a book that celebrates the glory of growing up: a perfect gift for girls embarking on all the journeys of life, for their parents, and for everyone who loves them.
This beautiful picture book is a lovely graduation or baby shower gift.
Praises & Awards
Praise
Publishers Weekly
"A magical blessing for unconventional girls. Fans of Gaiman and Vess will pounce on this creation; so too will readers who seek for their daughters affirmation that sidesteps traditional spiritual conventions."
Kirkus Reviews
"A rich and beautiful prayer for a girl. There is nothing cute or cloying here, just beauty, balance and joy."
Bookseller
"An enchanting lullaby poem brought to life by magical paintings for mothers and daughters (whatever their ages)."
Cookie Magazine
"It is astonishingly lovely."
From Neil
Behind the Book
Hello.
You're probably wondering what kind of book this is.
This is the kind of book that comes about when a friend phones you and says, "I'll be having a baby in a month. Would you write her a poem? A sort of prayer, maybe? We call her the Blueberry. . . ." And you think, Yes, actually. I would.
I wrote the poem. When the baby was born, they stopped calling her the Blueberry and started calling her Natashya, but they pinned up the handwritten Blueberry girl poem beside her bed.
I kept a copy at my house, taped to a filing cabinet. And when friends read it, they said things like "Please, can I have a copy for my friend who is going to be giving birth to a daughter?" and I wound up copying it out for people, over and over.
I wasn't going to let it be published, not ever. It was private, and written for one person, even if I did seem to be spending more and more of my time handwriting or printing out nice copies for mothers-to-be and for babies.
Then artist Charles Vess (whom I had collaborated with on Stardust) read it.
And somehow, it all became simple. I made a few phone calls. We decided to make some donations to some charities. And Charles began to draw, and then to paint, taking the poem as a starting point and then making something universal and beautiful.
On his blog he said, "Taking Neil's lovely poetic meditation on the inherent joys of a mother-daughter relationship and developing a compelling narrative impulse without robbing the poem of its highly symbolic nature was an interesting conceptual journey." Which I think is Charles for "It wasn't easy to make that poem into a picture book." He did an astonishing job, but I still worried. I stopped worrying the day the assistant editor at HarperChildrens, who was herself pregnant, called me to let me know that she'd got the artwork in, and read it, and then started crying in the office.
It's a book for mothers and for mothers-to-be. It's a book for anyone who has, or is, a daughter. It's a prayer and a poem, and now it's a beautiful book.
I hope you enjoy it. I'm really proud of it. And I hope this means I don't have to copy it out any longer….
Product Details
ISBN: 9780060838102
ISBN10: 0060838108
Imprint: HarperCollins
On Sale: 08/03/2011
10.000 in (w) x 10.000 in (h) x 0.000 in (d)
Pages: 32
List Price 9.99 CAD
BISAC1: JUVENILE FICTION / Comics & Graphic Novels / General
BISAC2: JUVENILE FICTION / Social Issues / Self-Esteem & Self-Reliance
BISAC3: JUVENILE FICTION / General
BISAC4: JUVENILE FICTION / Girls & Women
BISAC5: JUVENILE FICTION / Family / General